We live in the era of the witness (Wieviorka 2010). In transitions from war to peace the act of giving testimony has gained increasing attention as transitional justice mechanisms need witnesses to testify in courts and truth commissions, advocacy organisations rely on the affective force of testimonies in order to invoke empathy and action, and media tell stories through the lens of personal lives. Witnesses such as Nadia Murad, survivor of the Yazidi genocide, take on iconic status.
This research project addresses the puzzle of how knowledge of the gendered nature of war is produced and circulated, and highlights and problematizes the role of women's testimonies in this knowledge production. It will do so through an empirical investigation into one of the seminal conflicts of our time; the ISIS reign in northern Iraq and specifically the violence perpetrated against Yazidi women and girls as part of the genocide.
Concerned with knowledge production that is shaped by gendered exclusions and with an ambition to address this knowledge gap in peace and conflict studies, this project aims to contribute gendered knowledge to the field of research.
The theoretical significance and novelty of the project is to conceptualize narrative agency, which will provide the foundation for our ambition to theorize the process of production and circulation of gendered knowledge. The empirical significance and novelty of the project is that we increase knowledge about the Yazidi women's experience of war. By collecting and analysing Yazidi testimonies, we will shed new light on the conflict, and counteract generalized accounts of war rape that foreclose any complex renditions of women's agency. The methodological significance and novelty of the project is to develop a reflexive methodology based on an ethics of care, inspired by participatory research. The practical significance and novelty of the project is that we take on the challenge of addressing gendered epistemic violence. In cooperation with women's rights organisations we will develop an ethical toolbox. In doing so, the project is part of critical knowledge production and aims to have transformative effects.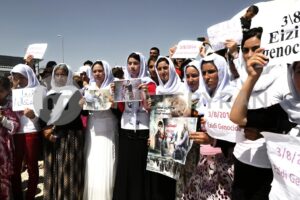 Photo by Seivan N. Salim (source AP)
The proposed project will expand our empirical knowledge by zooming in on the contemporary conflict in northern Iraq and the Yazidis in particular and will build on accumulative knowledge from other cases. From our preliminary overview of research on the Yazidi genocide, we can see that in addition to breaking new empirical ground, we can put new findings in dialogue with our rich case knowledge of Rwanda and Bosnia-Herzegovina. The Yazidi women's testimonies will thus also be read against the background of the existing knowledge about gendered experiences of war partly produced by the influential testimonies of Bosnian and Rwandan women.
Annika Björkdahl and Johanna Mannergren Selimovic are members of the project which will run 2021-23 and is funded by the Swedish Research Council.