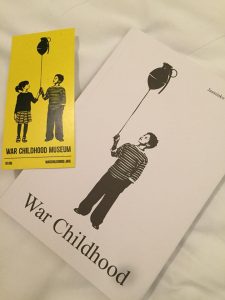 By Annika Björkdahl
The War Childhood Museum on Logavina 32 in Sarajevo is a new and important contribution to the ambiguous and fragmented memoryscape of Bosnia-Herzegovina.  It is located close to the Baščaršija, Sarajevo's old bazar and the historical and cultural centre of the city, yet hidden away, on a steep street and not easily found without a map. It focuses exclusively on memories of children affected by war.
The museum provides a careful selection of young memories describing war through the eyes of children. Through memories, testimonies, snippets of texts and video narratives, fragments of everyday life in a war zone are pieced together and as visitors we are transported back in time to the war in the 1990s and to the siege of Sarajevo.
The Museum started off as a project by Jasminko Halilovic to collect children's experiences and memories of growing up during Sarajevo's Siege. More than a thousand of these children, now adults and scattered around the world, responded to the call and shared their recollections and narratives, which were compiled in the book War Childhood, published in 2013.
One such narratives reveals the irony of children's play.
"It is ironic that with everything around us what we loved to play most was war…we called it rat-a-tat-tat" Amir, 1987 (cited in Halimovic 2017: 100)
In addition to collecting the stories of war childhood, memorabilia from these childhoods such as extracts from a diary, a sad-looking, mangy teddy bear, a carefully knitted vest, a young ballerina's pointe shoes, and a favourite book were donated making up the objects on display in the museum. In the exhibition, every artefact is accompanied by a unique personal story.
My brother's "children's police" badge is a short story shared by a sister who lost her brother in the war.
"How happy and proud he was the day that he received this badge with his very own name on it! Just imagine the honor! Imagine, he would be the one to protect order in our street. He could not imagine that he would carry it for such a short time. He could not even imagine that in a single day, during a UN ceasefire…in a single moment that day…in a single step…in a single misstep…that a single grenade…that a single a single piece of shrapnel…would ruin everything. Since that day, nearly twenty-five years ago, I, his sister, have carried his badge in my wallet – proudly, but with a heavy heart. Jasna, 1982 (cited in Halimovic 2017: 250)
Viewing the war through the memories of those who experienced it as children is powerful. The museum is overwhelming in many ways; it is backward-looking, recalling a difficult past, yet forward-looking and hopeful, it is sad and traumatic yet it reflects glimpses of children's play, cooping ability, fun and wry humour. It is reflexive as it provides visitors from near and afar to confront the war traumas of the recent past. It holds a timeless wisdom, important messages, and it sharpens the eyes to the unique experiences of children in war zones.
In a society divided along ethnic lines it is reflexive, reconciling and forward-looking to establish a museum that avoids reinforcing ethnic boundaries and that belongs to everyone.
By exhibiting children's memories, artefacts and narratives of war this museum holds the potential to give voice to war children of the past and the present.
Halilovic, Jasminko (2017) War Childhood. War childhood Museum, Sarajevo.