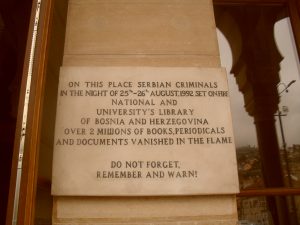 By Maja Davidovic 
''Never again will the year of 1992 be repeated. […] It is time for unity and accord of all those who love this country.''
Bakir Izetbegović, August 3, 2018
''Pupovac: Never again calls and threats that endanger lives''
A headline on the Vijesti.ba portal, October 7, 2018
''We pray to you dear God that Srebrenica never happens to anyone again''
Husein Kazavanović, July 11, 2018
Twenty-three years after the Dayton Agreement, these three quotes are only a few among many statements inspired by the 'Never Again' promise that regularly appear in different media sources in former Yugoslav republics. Gross violations of human rights, war crimes, crimes against humanity, and genocide all took place in Bosnia and Herzegovina (BiH) during the four bloody years between 1992 and 1995. Although today the country is known for its ethnic divisions, all ethnic groups seem to agree that these crimes are neverto be repeated.
'Never Again' is not merely a promise, it is also an obligation. The principle of non-recurrence is a promising one, not only among the political elites in former Yugoslavia but also in transitional justice (TJ) and peacebuilding. Guarantees of non-recurrence (GNRs) have repeatedly been underlined as one of the pillars of transitional justice while understanding the root causes of conflict, a pre-requisite for GNRs, is essential for the building of a sustainable peace. Yet, very few in these fields have asked, what exactly are these guarantees? Who determines them? Who are they for? How have they been applied?
The truth is, scholars have produced very little knowledge to effectively answer to any of these questions. As someone who was born and raised in Serbia, worked in Bosnia and Herzegovina and has had a chance to observe the two countries from abroad, I am not aware of any guarantees my country has put in place to assure me that it will never commit crimes against humanity again. Likewise, my colleagues in BiH, some of them of Croatian heritage, others Serbian, Bosnian Muslims, or none of the three, do not necessarily feel like any of their legislators, politicians or policy-makers have done much guarantee that they will not go to war with 'the Other' again. Nearly a year ago, during my field visit to BiH, some local residents drew rather realistic parallels between the on-going migration crisis and the conflict. They said they have been re-living their war traumas again by seeing hungry and poor women, men, and children sleeping in tents, inhabiting local parks, fleeing war. Their fears of recurrence keep the memory of the war vivid and trauma-prolonging and they are not entirely unreasonable. Ethnic tensions in the region remain at an unsatisfactorily high level and have only gotten worse in the attempts to deal with the thousands of incoming migrants earlier this year.
As a researcher, I had to wonder: what are BiH's or any other state's obligations to provide (or offer) guarantees of non-recurrence after a conflict? Where do these obligations originate from and, importantly, do local people act as consultants in these processes?
Researching public international law sources, the jurisprudence of international human rights courts and UN soft law sources shows that there is no consensus on what the legally enforceable guarantees of non-recurrence are. In the view of Pablo de Greiff, former UN Special Rapporteur on TJ, numerous measures such as education, trauma counselling, and the empowerment of civil society can be GNRs. Yet, these largely non-legal measures greatly depart from the standards set in public international law and, to some degree, even the UN-made soft law.
GNRs were known as consequences of diplomatic disputes, dating back to the late 19thcentury. In the LaGrand case involving Germany and the United States, the International Court of Justice (ICJ) declared for the first time that GNRs are a right of the injured state and that both specific and general guarantees can be state's obligations however refusing to specify any concrete measures in its later decisions.
Around the same time, the International Law Commission (ILC) was preparing the final draft of its Articles on Responsibility of States for Internationally Wrongful Acts. The final version of the Articles in 2002, where the LaGranddecision was used as an evidence of an existing obligation to offer GNRs separately from reparations, codifies states' obligation to 'offer appropriate assurances and guarantees of non-repetition if circumstances so require.'
In the 2005 United Nations Basic Principles and Guidelines on the Right to a Remedy and Reparation, published, however, GNRs are a type of reparations, just as compensation and satisfaction. GNRs can include 'any or all' of eight measures, including protecting legal professionals, promoting the observance of codes of conduct and ethical norms, and reforming laws that could allow for gross violations of human rights. Similarly, GNRs have been considered as reparations by regional human rights bodies, most notably the Inter-American Court of Human Rights which, inter alia, ordered Guatemala to adopt human rights and humanitarian law norms in its domestic law so that systemic violations do not happen again.
This ongoing normative study of guarantees of non-recurrence in international law shows anything but great discrepancies, which are reflected in practice. It is hard to comprehend how transitional justice scholarship has managed to argue that being forward-looking and promoting non-recurrence are its core mandates without a) fully comprehending what sort of non-recurrence a state has an obligation to offer, to whom, and by which means and b) looking more deeply into what states emerging from conflict have done in this regard so far. The recent editorial piece by McEvoy in the International Journal of Transitional Justice, pinpointing to how unexplored this pillar of transitional justice is and stressing the need for further research is a welcoming confirmation of my concerns.
GNRs essentially aim to transform the status quo that led to the violation, crime, or genocide and aid a lasting peace. That said, if transitional justice can promote a set of tools that aim to reach the objective of non-recurrence, this could actually help the field be transformative, while at the same time being reparative. What the scholarship needs is more knowledge of 'Never again' practices by those whose obligation it is to ensure non-recurrence and more decoding of the complex web of relationships that can jointly fulfil the promise of non-recurrence or else the transformative (and forward-looking) agenda of transitional justice may remain a purely abstract construct.
At the next stage of my research, I will migrate to Bosnia and Herzegovina to understand what these multiple actors have done, been wanting to do and how they have struggled. How have transitional justice mechanisms assisted them in this mission? Most importantly, have any of these measures been adopted and implemented in consultation with local populations? For, in the end, it is their lives and realities that seek transformations in order to, once and for all, heal, remember, and move forward from perpetually looking back.
Maja Davidovic is a Ph.D. candidate at Durham University working on guarantees of non-recurrence in transitional societies. She is an alumna of the Human Rights M.A. program at Central European University where she did research and published on gender and enforced disappearances and reparations. She has previously worked with migrants and refugees as a researcher and field officer in Serbia, Bosnia and Herzegovina, and Greece.