In this blog post we present the poignant volume 'Reconstructions – The Troubles in Photographs and Words'. It is a rare work that combines photographs and poems, capturing and blending personal and collective memories of the Northern Ireland conflict. The photos are by world-renowned photographer Bobbie Hanvey who took some of the iconic photos of the Trouble's defining moments. The poems are by his son Steafán Hanvey, who is a singer-songwriter and poet. We invited Steafán to write about his own relation to memory and art and how  it speaks to the memory politics of Northern Ireland.  Below, in his blog post, he notes that his father's photos acted 'as portals, not only to the past but to the future'.
At the end of the post there are links from the audiobook to three of the gripping prose-poems read by Steafán Hanvey, each linked to  Bobbie Hanvey's powerful pictures.  We are very happy and grateful to be able to introduce this work in the context of our research into multi-layered memorywork.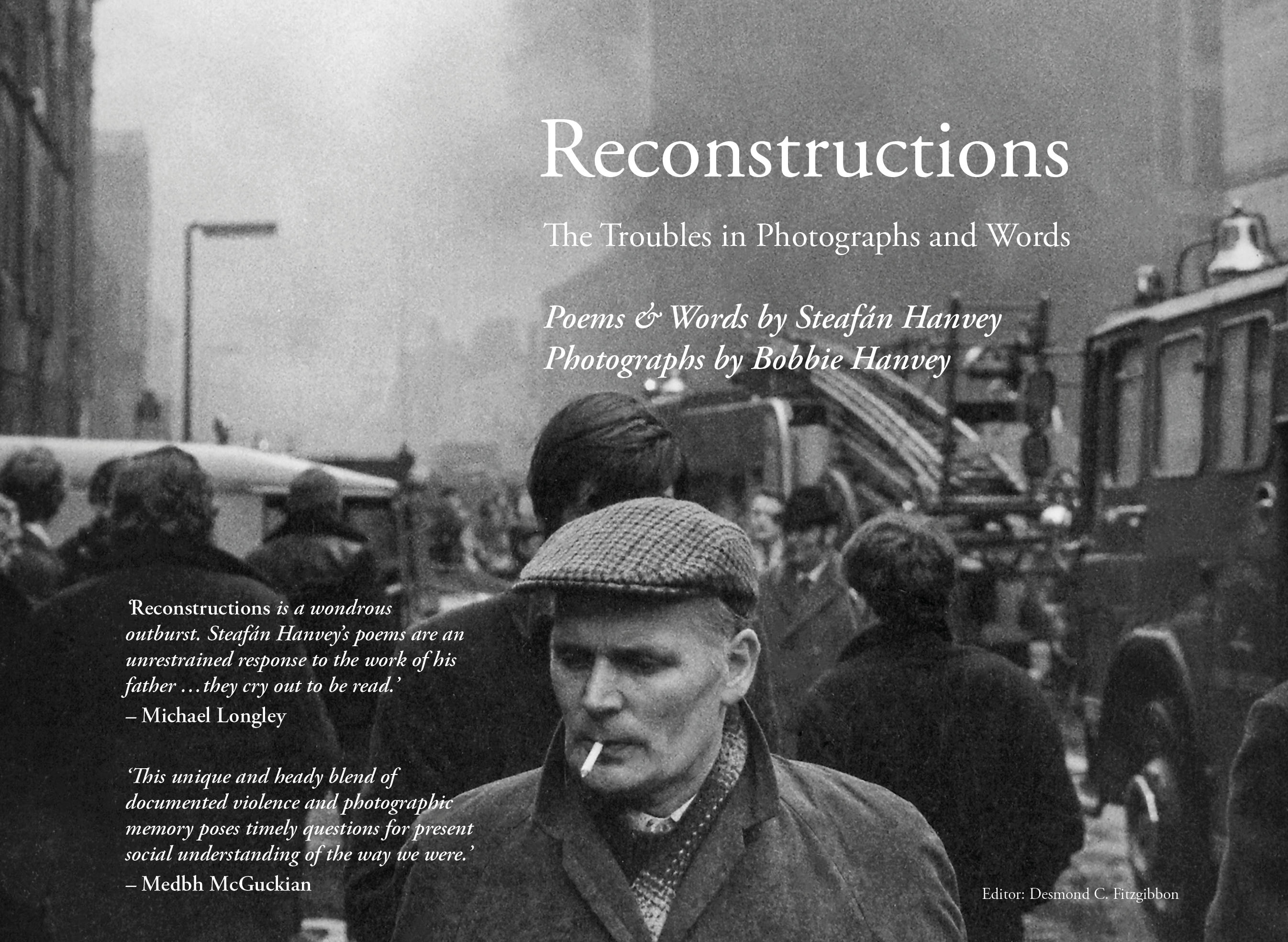 By Steafán Hanvey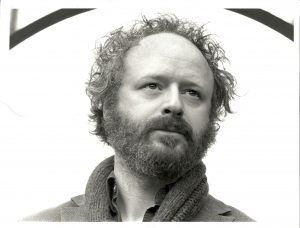 I slipped into this world between Bloody Sunday and Bloody Friday – on June 22nd 1972 – the same day the IRA considered calling a ceasefire if certain conditions were met; but it wasn't to be, and the conflict raged on for the next twenty-odd years of my life.
Fast forward to the IRA ceasefire in 1994 – my final year at university – and I'm working as a sound-engineer for a production company in Belfast. Somewhat ironically, for it wasn't until then – with the Troubles next to over – that I decided to up and leave Northern Ireland for snowier climes in neutral Finland. My intention was to never look back, and I didn't, at least not until almost two decades later when I set about writing and recording my second long-play record, Nuclear Family. 
This intensely personal album forced me to begin sifting through my memories and experiences. I soon realised that the public and political face of Northern Ireland was pressed hard against the window of my private and personal world. In short, my family couldn't be explained in isolation. After years of 'whatever you say, say nothing', I felt the time was nigh to say something, so I ceased 'houling my whisht'. As an artist, that something had always troubled me, and making Nuclear Family made me realise that though I had never written explicitly about Northern Ireland, Northern Ireland had, in fact, written me.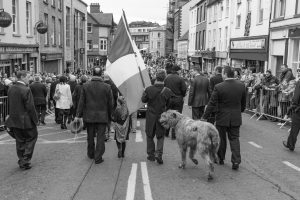 Photographic Memory
While I do believe that it is necessary to look back in order to learn from the past, at the same time, to do so comes with its own inherent risks. In 'The Most Trying of Colours (The Trickler)', from my first collection of poems Reconstructions – the Troubles in Photographs and Words,  I write:
The history-hoarders should quit
keeping score, for numbers
are dead weights and drag a body down …
But swamps and subduction zones were far from my mind when about two years back I received a black-and-white photograph from my father, Bobbie.  It depicted Main Street, Brookeborough, his home village in Co. Fermanagh, and a place dear to my heart too for I used to spend much of my school holidays down at my Granny Hanvey's. No sooner had I received the photo than I had written a poem about my stays with Granny Hanvey and sent it back to my da. I was aware that I had a collection of memories that would have been very similar to his own as a child. Perhaps I was trying to impress upon him our shared experience … despite our many differences. Happily, my da reacted positively to the poem and the foundations for Reconstructions were laid:
Peering down the shaft
of times-past,
I see memories
pulsing in the gloom,
waiting to be re-felt.
Some are the most unreliable of witnesses,
and often the best-forgotten are the least-forgotten,
but still, there they are, and here they come,
re-emerging eternally,
like photographs in a chemical-bath,
developing and re-developing
at their own behest.
[Excerpt from 'Plan B (Unravelling Night)', Reconstructions.]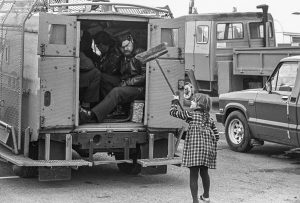 The End of Art is Peace
Having just one month earlier become a father myself for the first time, I was enjoying a breather from a prolonged period of touring the world with Nuclear Family and its artistic corollary, a multimedia performance called Look Behind You!™ A Father and Son's Impressions of the Troubles through Photograph and Song. (More info here.)
As memories, like words, can be as slippery as a new-born child, I opted instead to configure Reconstructions as a series of 'impressions', and like Nuclear Family and Look Behind You!™, it too would investigate and promote the notion that 'The End of Art is Peace'. Together, they would form a notional triptych – complementary panels that told a similar story in different ways.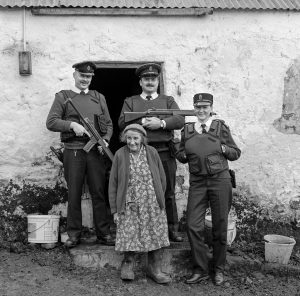 Portals to a Childhood
And so, I started to revisit some of my father's iconic photographs from the Troubles, with the intention of producing a poem for each. The photos acted as portals, not only to the past but to the future, dragging me back and propelling me forward as each recollection qwertied onto the computer screen.
I was present at the conception of many of the photographs. I witnessed their act of becoming, and marvelled as they developed lives of their own in chemical trays and beyond. Often depicting disgraceful acts, they nonetheless graced the pages of many national and international publications. Their brutal candour made sure of this.
My da conceived these photographs and I hope that my words do them and their taker — my fathographer— the justice they deserve. I also hope that in my presentation of each 'reconstruction' that I have afforded the less-fortunate — those who lost their lives, and those who were hurt and are hurting still — their due respect.
 Below follow three photographs and poems (on audiofile)  from Reconstructions – The Troubles In Photographs and Words.
Gotcha!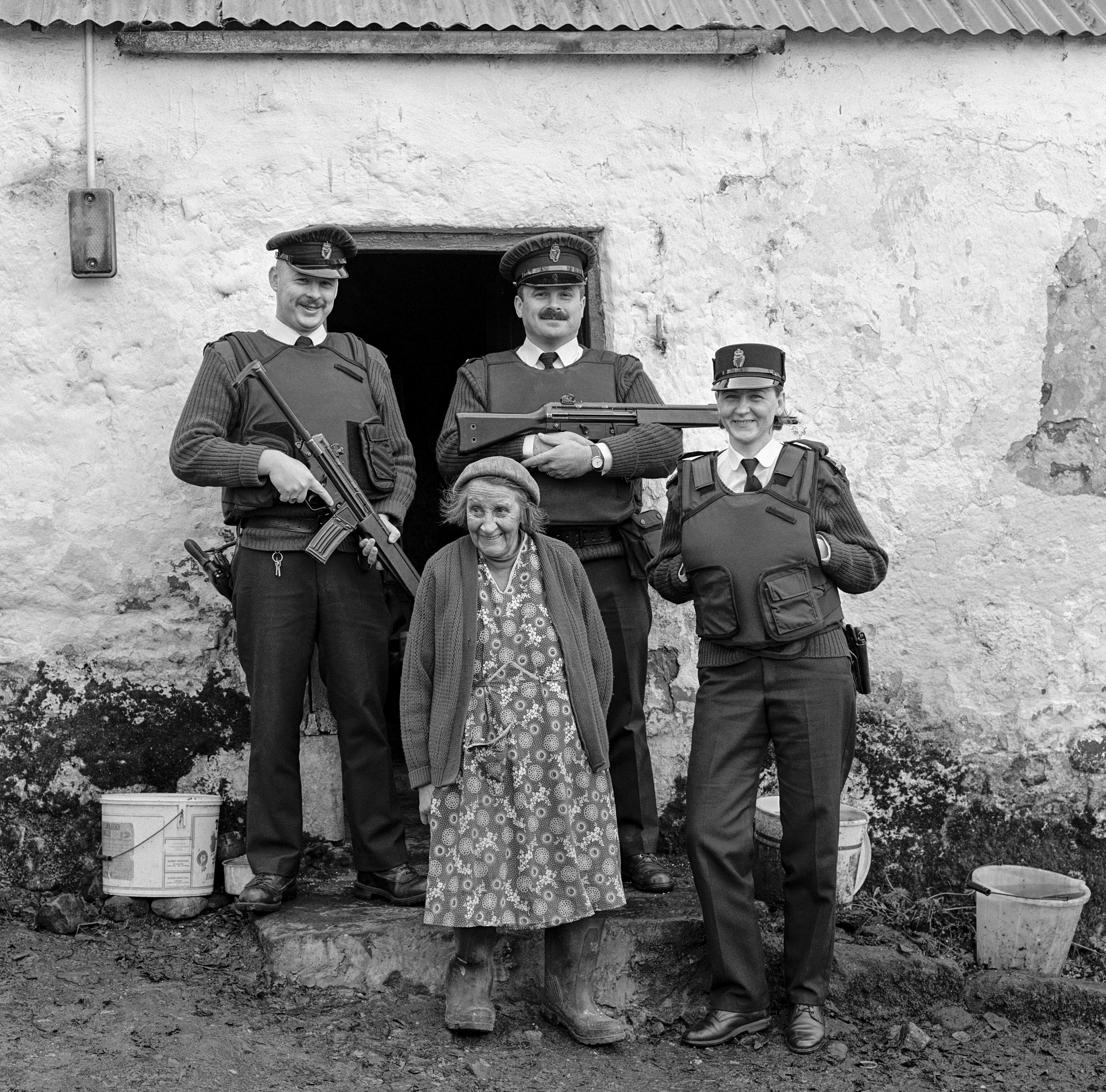 (The lady in the photograph was called Sarah Primrose, here with a RUC neighborhood watch patrol).
Trigger Treat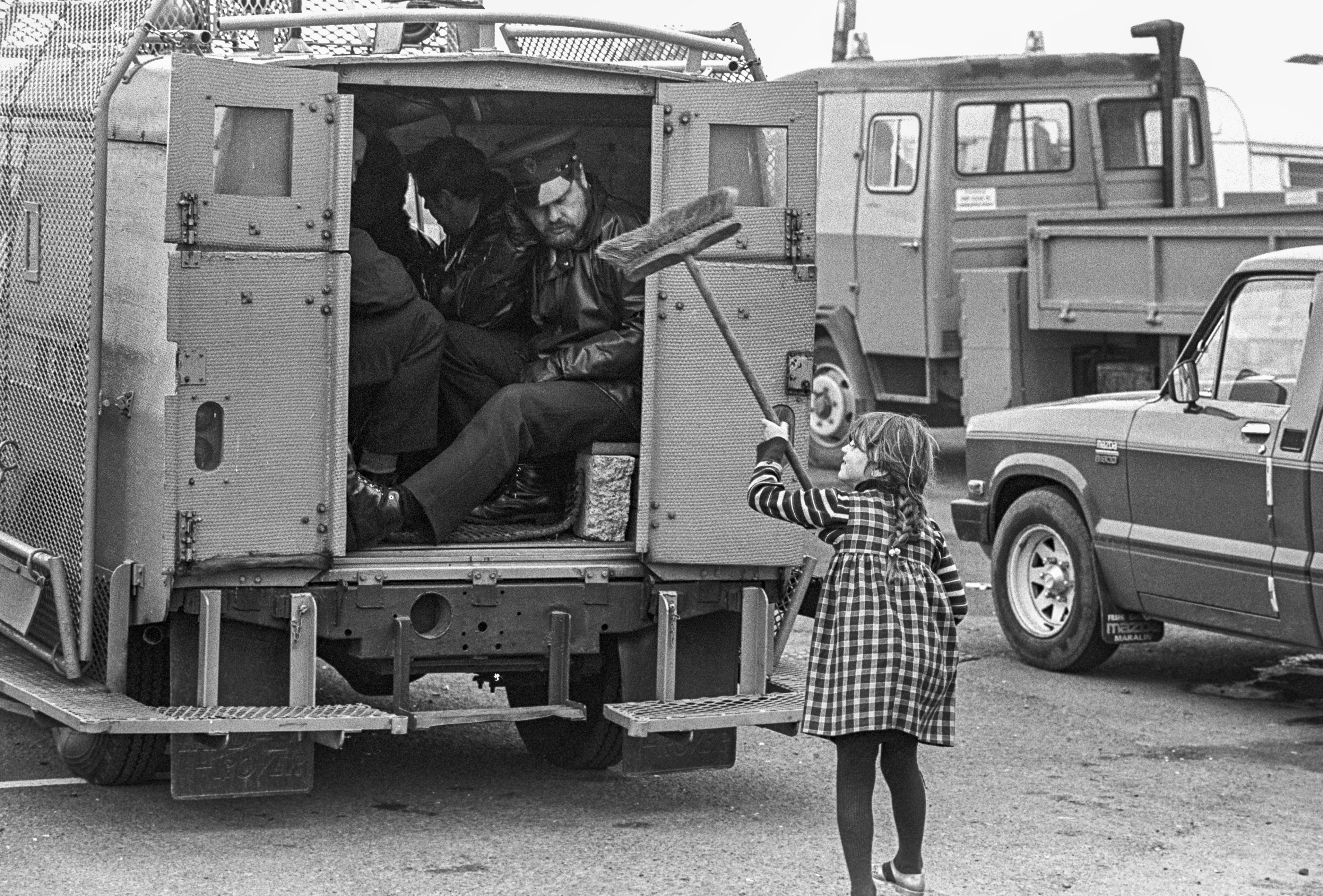 (The little girl is a member of the traveling community, and is waving a brush at a RUC officer who had been on the night shift.)
The Most Trying of Colours (The Trickler)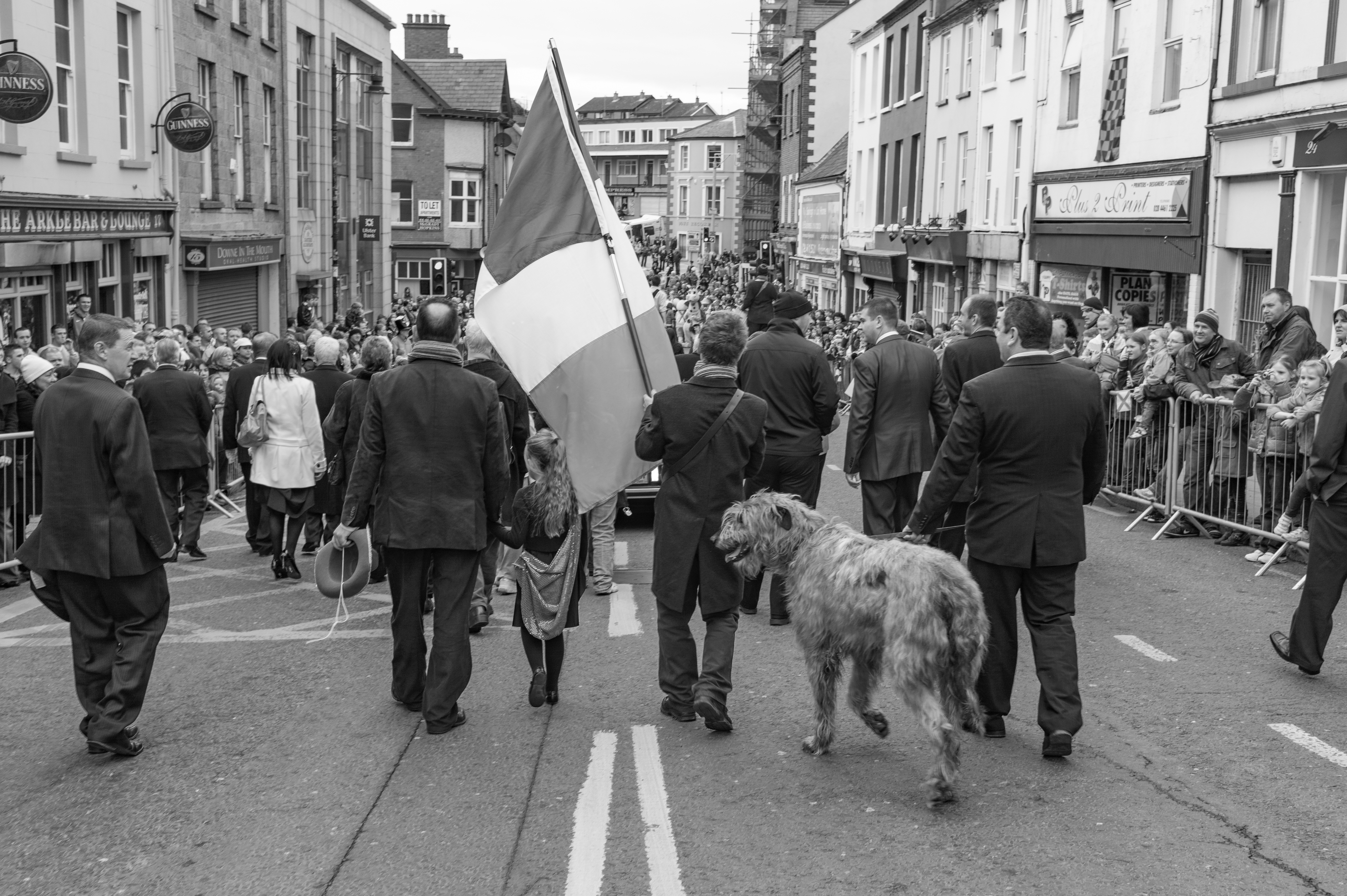 (This photo of a procession on St Patrick's Day in Downpatrick, Co. Down, was taken in the street where the Hanvey family lived.)
Reconstructions – the Troubles in Photographs and Words hardback and e-book formats are published by Irish Academic Press/Merrion Press. The Photo-Poetry Audiobook is distributed by INgrooves. Bobbie Hanvey's photographs appear courtesy of the © Bobbie Hanvey Photographic Archives, John J. Burns Library, Boston College (Cambridge, MA), and the trustees of Boston College.
For more information and links see: www.steafanhanvey.com